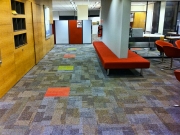 Icon Floors have built a reputation for their outstanding service and consistently high standards in commercial carpet and commercial flooring. We supply top quality carpet tiles, broadloom carpet and vinyl and our complete range has been selected for its suitability for commercial environments such as offices, showrooms, retail, hospitality and public areas.
The Commercial Carpet Specialists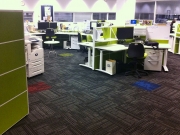 Unlike other flooring companies, Icon Floors only does commercial, so we understand how important it is to your bottom line to have a quality product at a great price, a smooth project that has minimal impact on your productivity and an end result that leaves your tenants, employees or customers with a lasting, positive impression.
The Icon Floors Difference
Service
We provide the best possible commercial flooring service with a total understanding of your needs. All of our installers are employed by Icon Floors and understand how important it is to keep you satisfied. Our management team are hands on as well, so you can be sure that you are being looked after.
Reliability
We know how important it is to get things done with the least amount of impact to your business. Our innovative techniques and processes allow us to complete more square metres of flooring per day than other flooring companies.
Relationship
We don't treat you like a customer. We treat you like a partner, sharing the pride in seeing the job done right. We do our best to source the best deals from our suppliers and pass the savings on to you. We always try to communicate in a way that is easy to understand so that you know what to expect.
Experience
All of our team are experienced, qualified and passionate commercial flooring professionals. We plan, prepare and execute quality commercial carpet projects time and time again. When you choose to work with Icon Floors, you get all of our innovation, design and product knowledge as well as our proven approach to problem solving.